Pedigree
A mix of warmblood and strength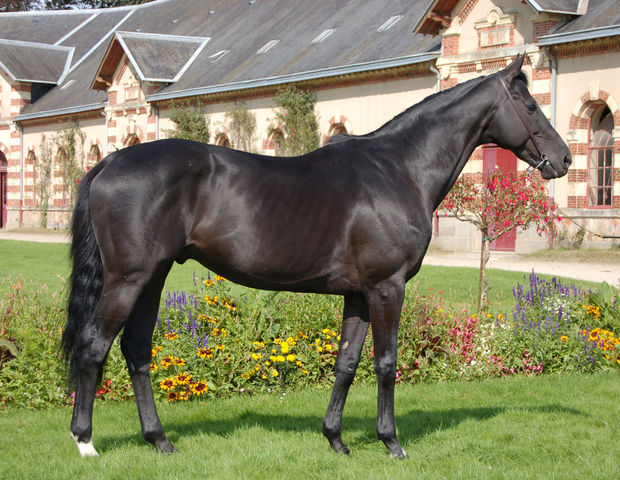 Cher Epoux is one of the two ONLY APPROVED SON OF DEARLY MISSED NETWORK XX (GER), great racing champion himself in flat racing and sire of many steeple-chase winners. CHER EPOUX is the only approved stallion for sport breeding. First bought and operated by the French National Stud (based at the famous breeding center of Cercy-la-Tour, the heart of the French AQPS), Network has been then sold to a private stallion company in December 2015. He produced 773 offsprings in France. Among them the best steeplechaser in England, Sprinter Sacré, winner of 9 Gr.1 races including 2 Queen Mother Champion Chase at Cheltenham (GBR), but also Gr.1 winners Crystal Beach, Delta Work, Le Richebourg, Rubi Ball, Saint Aré, Rubi Light, Adriana des Mottes, the Gr.2 winners Voiladenuo, Vent Sombre, Ball d'Arc, Etoile du Seuil, Acapella and Dame Rose, etc.
NETWORK XX (GER) has been one of the first thoroughbred born in Germany and imported to France in 2002. Son of the famous MONSUN, he was detected by the French National Stud thanks to the expertise of Mr Eric Hoyeau, now CEO of Arqana. MONSUN was then only a young stallion but Mr Hoyeau already knew that he would be a great sire. After 6 years covering mares in Germany, NETWORK has been bought and made available to the breeders in order to breed steeple-chasers. This choice has been the right one from the first generations, encouraging the breeders to trust him.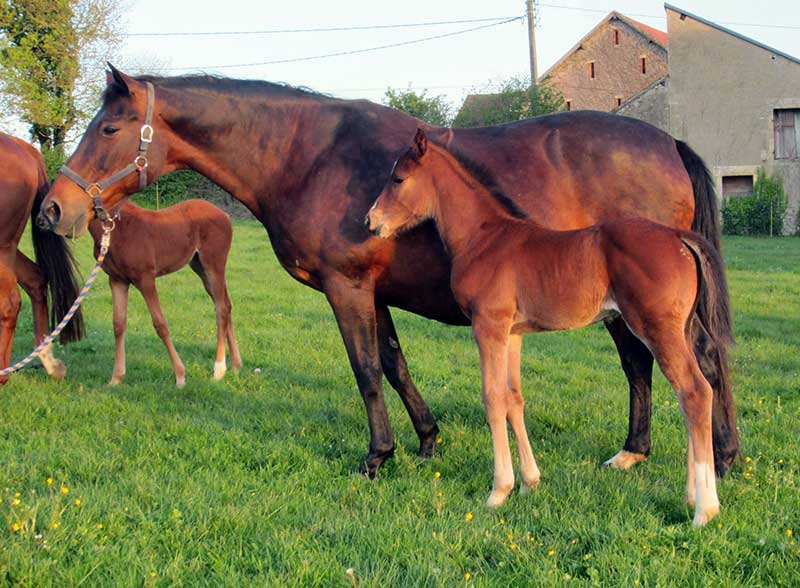 CHER EPOUX' mother EPOUSE DU TAILLAN SF competed only one season in eventing at 6 years of age (ICC 112) before starting her breeding career. She first produced 6 foals in the name of the Ecurie du Bud Joy. Among them: Masai des Bleuets SF (by Fidelio du Donjon SF) who participated in the young eventing horses final at 4 and 5 years old, Qharma des Bleuets which already produced 3 performers (including Gevrey Neo ICC 123 at 5 years old), Too Much des Bleuets SF (by Cartier vd Heffinck) ISO 128 who participated in the young jumping horses final at 6 years old, and most importantly the international winner Riccio des Bleuets SF (by Calvaro HOLST) ISO 144 under the saddle of French rider Jean-Paul Casile.
From 2007, Epouse produced on behalf of the Ecuries de Chevannes and gave, apart from Cher Epoux, 5 foals. The first one is named Union Libre Macalo SF (by Baloo du Camp AQPS) and jumped ridden by an amateur rider (ISO 105) before starting her breeding career. The seconde filly Viv La Mariée SF (by Sabrehill xx) competes at the 4* international level in eventing ridden by Marie Bouchanville (ICC 144). Epouse Moi SF (by Caballo Raptor xx) ICC 115 qualified for the young eventing horses final at 4 and 5 years old with both an ELITE label.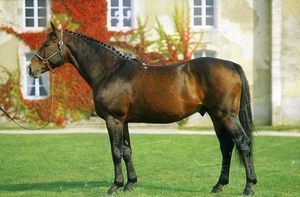 Epouse is a daughter of Qyou de Longvaut, Selle Français stallion by I Love You SF (photo), who participaed in the young jumping horses final at 4 years old before being dedicated to his breeding career. He produced 220 horses with 140 winners in show jumping. Ammong them the full sister of Epouse du Taillan, Féérie du Taillan SF, ISO 149, Foulyou SF ISO 144 at 7 years old ridden by Clémence Laborde, Boreal de la Maine SF ISO 141, Amour d'Avril SF III ISO 153 mainly ridden by Jacques Bourven.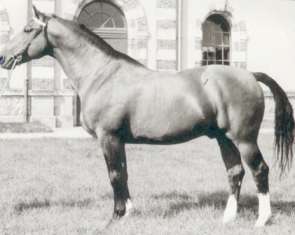 The grand-mother of Cher Epoux, Oiselle du Taillan SF (by Ebrahim Grimeu SF), had 7 products with 5 competing in show jumping. Among them we find the good Féérie du Taillan SF (ISO 149), Captive du Taillan SF (ISO 122, young jumping horses final at 4 years old and then broodmare), Vampire du Taillan SF (ISO 116).
The great-grandmother Crinière Au Vent SF brings the precious blood of the Anglo-arabian leading sire Nithard *AA*. She produced 12 foals among which: Marocaine (Ebrahim Grimeu) ICC 120 ; the famous Pivoine du Taillan (Unicol'Or) ISO 162, international winner under Michel Robert's saddle herself a very good broodmare with the international performer in show jumping Hopi du Tillard (Le Tot de Semilly, for Belgium) and the international performer in eventing Ruben de la Pomme (Vigo d'Arsouilles, still for Belgium) ; Sir du Taillan (Lucky Boy II) IDR 148 and winner at the international level in dressage ; and of course the French stallion Bijou du Taillan (Almé).
The great-great-grandmother of Cher Epoux, Primevère (Gai Printemps) gave only 5 foals but above all 2 fantastic mares. Firstly Primerose (Nithard *AA*) who produced Nymphe Nantaise ISO 138, and Eglantine (Arlequin *AA*) whose daughter Jonquille (Ecusson SF) produced the international eventing performers Prince du Taillan (Vulcain du Pic AA) ICC 149 and Tulipe du Taillan (Kashnil xx) ICC 144, and the good show jumping performers Unité du Taillan (Nobel V SF) ISO 140 and Vacarme du Taillan (Laudanum PS) ISO 145 ; while her other daughter Mille Feuilles (Campoamor I AA) produced Diorella du Marais (Soir d'Avril V SF) ISO 153. Eglantine is also the mother of the national stallion Kapoc SF.
" Cher Epoux represents the perfect alliance between blood, essential to any modern horse whatever the discipline, the strength, vital when one evolves at top level, and the mind, because without control, the power is nothing. "
To go into detail…
The paternal and dam line of CHER EPOUX are rich in performers but also in teaching about its intrinsic qualities and the genetic potential it represents. We invite you to download its SIRE file (on the left) and to consult the SIRE database (button on the right) to discover the multiple ancestors and collateral of our stallion.