Offspring
Intelligence, flexibility and skills.
Cher Epoux started his career as a stallion in 2015 after his first French Champion of Selle Français Stallions title obtained at the end of the year of 2 years. Since then, more than 100 mares have been bred and this although the horse only covers in frozen semen (being dedicated exclusively to sport). To date, the oldest are 6 years old in 2022.
Below you will find information about them. First, we present some of its products, born at the Chevannes Stables and elsewhere, whose owners have kindly sent us photos. This will give you an overview of the model and the points of force transmitted by Cher Epoux. Second, we will resume the performance of its products, although its first generations are still very young.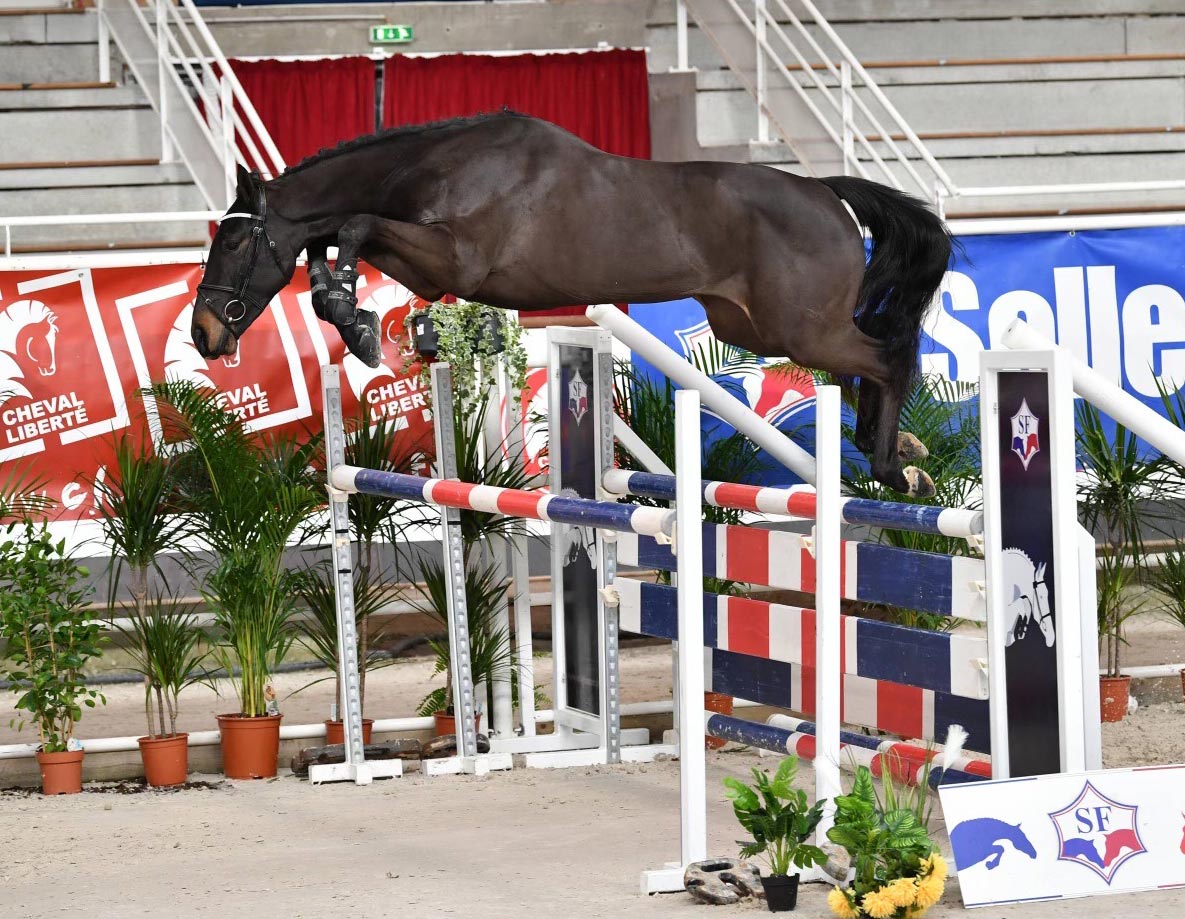 Iron Man de Favray
The new "hot thing" of 2021!
No, you're not dreaming. It is not Cher Epoux on the picture opposite but his son Iron Man of Favray (Cher Epoux and Arrow de Banuel by Orlando), born at the stud-farm of Laurène Blin-Delamare and belonging to Jean-Pierre Texier. He finished 4th in the 2 y.o. Selle Français Stallions qualifier of Saint-Lô (Normandy, France) with an average of 18.5 in the free jump and an overall average of 16.59! He finished 5th overall. He was finalist of the 3 year-old Selle Français stallions championship 2021 and has been definitevely approved.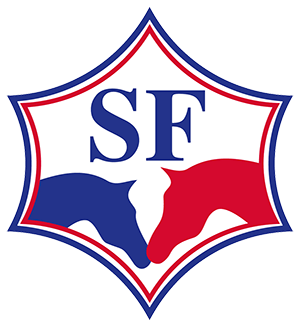 Hello Sir
Cher Epoux & Tarentule SF by Apache d'Adriers SF
Born in 2017 at Mr Yves de Soultrait's stud-farm
Under Chiara Autin's saddle (recently crowned French eventing Champion, and previously European Junior Champion 2018 and European Junior bronze medallist 2017), the dark chestnut born at Mr Yves de Soultrait's stud-farm, owned by  Eric & Stephanie de Soultrait, shows great skills for eventing.
The grand-mother of Hello Sir, Good Joye, produced 7 foals including 3 performers with a sport index above 130 (Qui Suis Je and Risotto ISO 137, Belle Joye ICC 141 ridden by Hervé Letheux). His great-grand-mother is the famous Une Ivresse, mother of the 1.50m performer and stallion I Am Boy. This is the maternal bloodline of Potemkine (ISO 145), Igor des Saccarts (ISO 148), Lafrica (ISO 143), Qaballeros (ICC 154). We also find bunches of racing winners (steeple-chase and flat) like Temerson (ICO 146), Quibala (ICO 149), Beloa des Sacart (ICO 145), and the great Monoalco (ICO 160), winner of more than 800 K€ prize money, winner of Gr.I races. A cocktail that gives a horse full of blood and visibly very comfortable on obstacles!
Lysistrata de Brenne
Cher Epoux & O'Vive de Brenne SF by Happy Vergoignan AA
Born in 2021 at Mrs Catherine Dumas' stud-farm
In her mother line, we find most of the famous products from Mrs Carine Van Ingen's stud-farm including Avane de Brenne (Quinoto Bois Margot, SF) ICC 127 and ISO 141 Elite at 4 & 5 years old, Excellent at 6 years old, Parenthèse de Brenne (Soir d'Avril V, SF) ISO 125. But also Babacool de Brenne, Carmen de Brenne, Swann de Brenne and Caramel de Brenne with an eventing index between 120 and 130.
Lumbledore du Tsar AC
Cher Epoux & Cahicha du Tsar AA by Eclat de la Pierre AC
Born in 2021 at Mr Alban Kervella & Mrs Sandra Loun's stud-farm
This beautiful filly is a close relative to the great…QUORIANO*IFCE, international eventing performer ridden by the French Olympian Arnaud Boiteau up to 5* level.  Lumbledore's mother, CAHICHA DU TSAR, is the sister of two incredible international performers in eventing,  Quoriano*IFCE Sport (ICC 163  with Arnaud Boiteau/FRA) and Sultan de la Motte (ICC 162 also ridden by Arnaud Boiteau).
Katimini de Brenne
Cher Epoux & Serpentine de Brenne SF by Yarlands Summer Song SESF
Born in 2020 at Mme Carine Van Ingen (FRA)
A beautiful Cher Epoux' filly with many strength points and an exceptional charisma. Katimini is the half-sister by her mother of Foxtrot de Brenne (Lully Rocio) finalist at 4 and 5 years old in hunter, Eureka de Brenne (Master van de Helle) ICC 127 finalist SHF hunter at 4/5 years, Devinette de Brenne (Cardero) ICC 113, etc. She comes from the dam-line of History de Brenne (ISO 150), Idylle de Brenne (ICC 145), etc.
Kookaï de Bouzigues
Cher Epoux & Orange du Banney SF by Obéron du Moulin SF
Born in 2020 at Mme Ludivine Castaing (FRA)
A compact brown bay filly, with a very nice head, good poise and legs in place that won the Model & Paces show where she won with an average of 16.9.
Her mother Orange du Banney also produced Samuraï de Jeanbel ISO 152 and Enrico de Jeanbel ISO 131. It is the famous dam-line of Picnik (Fra Diavolo) from which come a multitude of winners such as Aurnella (ISO 180), Funky V (ISO 164), Valespoir Malabry (ISO 167), Edile des Noes (ISO 151), Bamboula (ISO 169), Joal de Madame (ISO 169), Elixir de Madame (ISO 158),…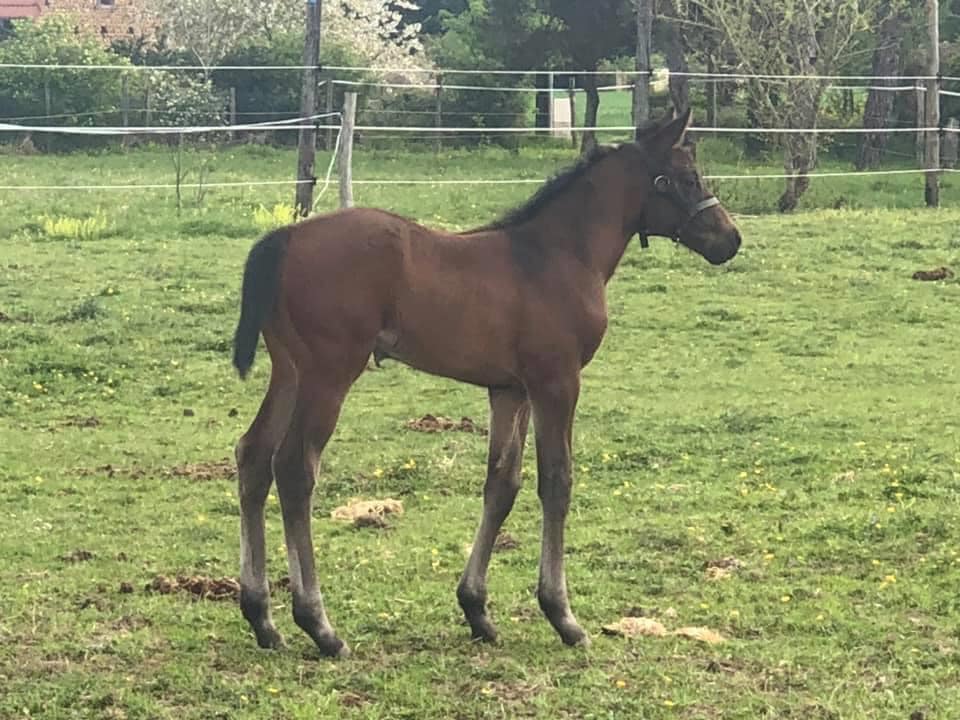 Keepling de Vernades
Cher Epoux & Patelle d'Or SF by Caloubet du Rouet SF
Born in 2020 at Mme Valérie Moussu (FRA)
This gorgeous black filly earned the top average of 16.30 at the Model & Paces show.
Keepling comes from the dam-line of the international winner Fidji d'Evordes ISO 171, but also of the eventing performers  Viens du Fresne ICC 162 and especially the beautiful Fine Merveille ICC 175, member of the French team with Cédric Lyard.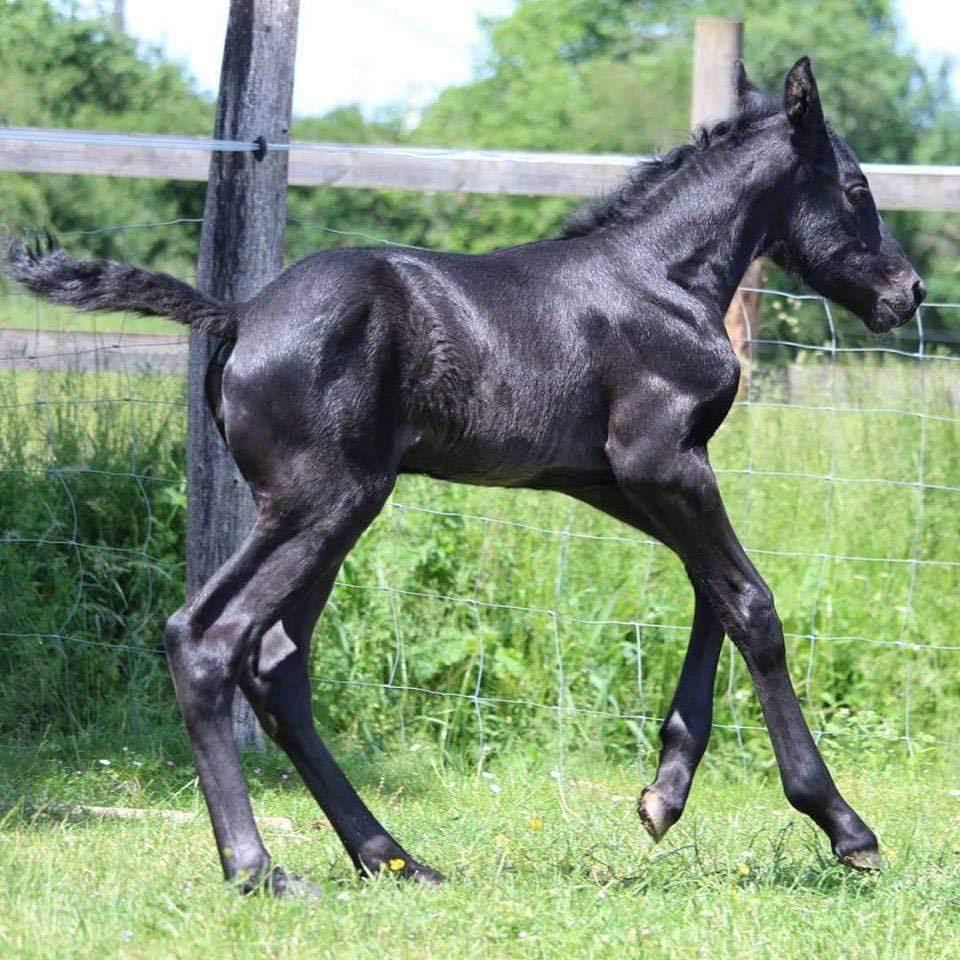 Hermès d'Harlot
Cher Epoux et Idole de Bellevue SF par Silver Rainbow PS
Born in 2017 at M. Arnaud Marragonis (FRA)
A male with a nice paces, a pretty head, with a strong and tense back.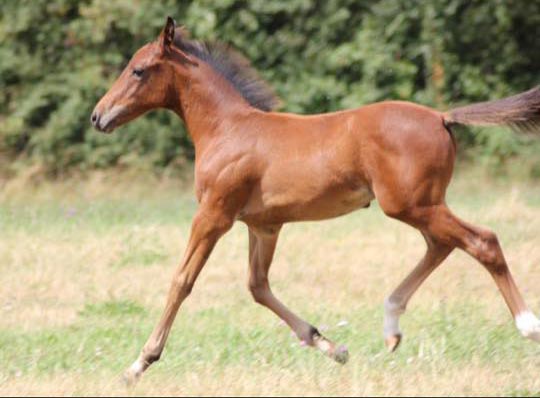 Graine de Fruit PFS
Cher Epoux & Fruit de Kiwi PFS by Kiwi Roche Welsh Cob
Born in 2016 at Mme Sylvie Bouchanville (FRA)
Yes, Cher Epoux also crosses very well with the pony mares! The proof with Graine de Fruit, bay gelding born at the Chevannes Stables of his union with Fruit de Kiwi, very good winner on the eventing pony circuit (IPC 148), member of the French pony eventing team riden by Frédérique Whitaker. Despite a shortened 2020 season, he already got an ICC 100 and shows incredible skills!